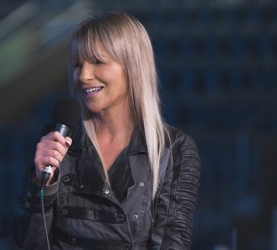 Taken from Wikipedia:
Wendy Alec is a writer, TV producer, film maker, and a director of WarBoys Entertainment London.She has written seven books, including the epic fantasy series, Chronicles of Brothers. She co-founded the GOD TV network in 1995 and presided as Director of Television and Creative Director for 21 years. In 2018 she signed a contract with publisher Harper Collins for the relaunch of the 'Chronicles Series' and left GOD TV to pursue her writing career and the development of her London based TV Production Company Warboys Entertainment.
Alec co-founded GOD TV with Rory Alec in 1995 as the UK and Europe's first daily Christian television network – broadcasting two hours a day on Rupert Murdoch's SKY platform. The network grew rapidly over the past 21 years, now with a broadcast reach of 951 million viewers. With a background in commercial media, Alec aims to see "a revolution of excellence and creativity" in Christian media. Her objective is to make Christian television relevant to the unchurched and to reach a younger demographic of viewers. She has been called a 'trendsetter for the Christian world'.
Over the past two decades Alec has worked as GOD TV's Creative Director and Director of Television responsible for the network's international branding and programming line-up. She has also been the network's president. Alec is the host of Word From The Heart and An Evening With Wendy on GOD TV. Alec has represented GOD TV at several international conferences including: the Women on the Frontlines World Convention 2015 at Angelus Temple in Los Angeles and the Empowered21 Jerusalem 2015 Global Congress.
Alec and her husband divorced in 2014.
---
(*Do you have a better description, or did you find an error?
Please let me know.
Thanks*)