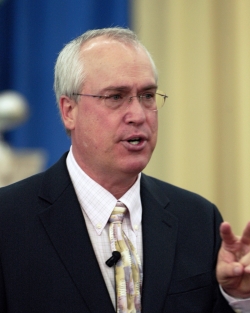 From Dennis Cramer Ministries:
Founder and President of Dennis Cramer Ministries, Dennis is endorsed as a Proven Seer, Published Author, and Bible Teacher in great demand worldwide. Clearly gifted with the supernatural ability to hear from God, this servant has blessed thousands with his down-to-earth, yet extremely accurate style of prophetic ministry. Dennis conducts schools of prophecy and schools on the nine Gifts of the Holy Spirit, in local churches worldwide. For nearly forty years, leaders in ministry, business and government receive him as a true prophet to the nations. Dennis also sits on the "Apostolic Team" of numerous churches and para-church organizations.
---
(*Do you have a better description, or did you find an error?
Please let me know.
Thanks*)