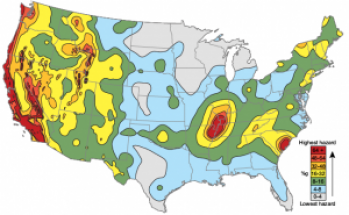 This prophecy details a massive earthquake on the New Madrid fault line. Some of the details involved in this prophecy include an unzipping of the fault so powerful that it'll split the river tens of miles wide open, destroying all bridges across it and preventing people, commerce, etc from passing east to west across it ever again. There's even talk that this splitting open will be felt with great intensity all the way up into Canada and tear right through the Great Lakes even as far as Hudson Bay, completely draining them into the ocean. Also, given historical data about the fault line, an earthquake large enough to cause this level of destruction is within the realms of possibility.
A LOT of devastation and destruction will come because of this. It is predicted to be so large and devastating that it could easily leave several states either fully or partially submerged under water as a result. Likely reasons for this quake are because America forces Israel to divide it's land, so God divides ours as judgment for that sin. It's also possible this may not be an event all its own, but rather just one part of the much larger Meteor Destruction of America prophecy which also speaks of a similar dividing of the Mississippi. The maximum geologic acceleration predicted for this event is expected to be in the 12+ range in much the same way as the meteor prophecy.
---
(*Do you have a better description, or did you find an error?
Please let me know.
Thanks*)